Vitaly Mansky Reality Cinema
Vitaly Mansky is one of the most acclaimed contemporary European documentary filmmakers and producers. His works were presented at more than 500 international film festivals, where he won more than 100 prizes including "Silver Globe" of Karlovy Vary IFF, "Silver dove" of Leipzig festival. He is a president of documentary film festival "Artdocfest".
"For me, each film is new—I start from a blank page. And so I like to think that every film that I make is different. Each story requires its own approach, its own tone, its own feeling. In life we can't always be either happy or sad, and film is a representation of us and how we feel. "
Vitaly Mansky
Vitaly Mansky is a Russian documentary filmmaker, born in Lviv Ukraine and living in Latvia. In the year 1982 he entered the All-Russian State Institute of Cinematography (VGIK) (S.E. Medynskiy's workroom).
Since 1996 Manskiy has been working on a project that aims at archivation of amateur private video files that were shot in the times of the former USSR from 30's till 90's of the ХХth century. Thus we have the unique archives of one and only films – evidences of the Soviet society's private life.
As of the year 1995 he worked in Television. Manskiy was the author and producer of the project "Reality cinema" that was on air from 1995 on the First Russian Channel, where one could see premières of the best world documental films. In the same year he became director of the Film Demonstration Service, and then the first General producer of the channel "REN – TV", on which hundreds of best documentary films from all over the world were shown for the first time. In 1999 he went to the "Russia" channel, where he became Head of Production and demonstration of documentary projects Service. Being a director, he released more than 300 films that were demonstrated on channels "Russia", "First Channel", "NTV", "STS", "Culture", "7TV".
In 2000 Manskiy was the first one to institute the National Prize "Laurel", and in 2006 he became Director General of this award that is handed for the best documental films; and then Manskiy became one of the founders of the guild of "Non-fiction cinema and television of Russia". In 2009 together with Eldara Razanov, Aleksey German, Aleksandr Sokurov, Yuriy Norshteyn… founded alternative Russian Film Union.
His first work in the world of cinematography appeared in 1989, and since that time he has shot more than 30 films. Among his first works are Etudes about Love (1990-1993), Lenin´s Body (1991), Cuts of a Recurrent War (1993) or Bliss ( 1995). He has woven together a fictional biography – taken from over 5.000 hours of film material, and 20.000 still pictures made for home use with Private Chronicles. Monologue (1999). A moving document of the fictional, but nonetheless true life of the generation who grew up in this time of huge change and upheaval.
In 2001 Vitaly Mansky made a trilogy for a television called Red Tsars. Presidents of Russia. He followed Mikhail Gorbachev, Boris Yeltsin and Vladimir Putin during the course of a year. The result is both an insider's account of politics in Russia and an intimate portrait of the three 'Red Tsars'.
Gagarin's Pioneers that made Vitaly Mansky in 2005 is the director's journey in search of his classmates from 52 schools in the city of Lvov, with whom he studied together in Soviet times who in 1973 were all members of a pioneer group called "Yuri Gagarin".
In 2013 he won prizes at the London and Karlovy Vary film festival with Pipeline, which followed the Trans-Siberian pipeline through a diversity of villages and enclaves en route, and then in 2015 he finished Under the Sun – a story about eight years old girl Zina Mi who lives in Pyongyang – the capital of the Democratic People's Republic of Korea. Film was shot from a script provided by the North Korean comrades. The documentary pleased neither the North Koreans nor his home country but it was screened at numerous festivals including IDFA, DOK Leipzig or Visions du Reel.
With Close Relations (Rodnye), the filmmaker has had to grapple with the conflicted feelings and loyalties of being born in the Soviet Union, raised in the Ukraine, educated and developed into an artist in Russia, and ultimately left stranded by recent events. The film recounts a year in which he visits with members of his extended family throughout the Ukraine, taking stock of a wide spectrum of experiences and political affiliations, and watching the fractious country descend into conflict and war. This film starts with the phrase, "I never thought that I'd be making this film." The statement is a very honest one, and it's also accurate to say that this film was made without a plan. It was very much an unpredictable project as it went along. When I saw that Russia was annexing Crimea and beginning the annexation of other regions in Ukraine, there are two things that I understood. The first is I need to be close to my family and the people close to me, and the second is that I need to be able to tell this story to explain to a larger audience what's happening in the Ukraine. I can't continue to live in a country that takes these kinds of actions. But when I began making this film, there weren't casualties in this conflict. I didn't know how events would unfold. And maybe that's the key role of the documentary filmmaker, to come into an event open to the unfolding of that event, as opposed to with your own, ready script. said Mansky.
To overcome a grave and far-advanced illness it is necessary to make a diagnosis and to study the history of this illness. That was my logic when I conceived a film about the events, which followed the unexpected resignation of Russia's president Boris Yeltsin and the start of «Operation Successor». I was witness to and participant of this operation, which brought Vladimir Putin to the Moscow throne. My testimony is very important not only for the Russian society – to cure it from an advanced disease, but also for other countries – to prevent them from losing their freedom.
Vitaly Mansky
The events of  the film Putin´s Witnesses begin on December 31, 1999 when Russia was acquainted with its new President Vladimir Putin. The protagonists of the film are Mikhail Gorbachev, Boris Yeltsin, Vladimir Putin, and the Russian nation, as always being a silent witness of its own destiny. The film won Grand Prix at Karlovy Vary International Film Festival. After "Close Relations" I started working on the archives, on my memories, the concept of the film did not come right away, it always needs to be distilled. I wanted the film to premiere before the 2018 elections, not because I hoped it would have any impact, but just because it would serve as some kind of warning, invitation for analysis. But the production was very complicated, we restored the materials in Switzerland, and so we didn't force it for before the election. Unfortunately, this film will remain relevant for a long time. said Mansky.
With Gorbachev.Heaven (2020), Mansky says he wanted to show audiences the human side of the eighth and final leader of the Soviet Union. Gorbachev.Heaven is a documentary film about changes that reverberated throughout the world wrought by one man. A film summing-up the life of a man who changed the world in the 20th century. Gorbachev's short time in power was marked by the collapse of this empire. He was the architect of Glasnost and Perestroika, policies that gave the citizens of the Soviet Union – what Ronald Reagan called "the Evil Empire" – a chance to be free. He tore down the Berlin Wall. But at the same time, under his rule, the Chernobyl nuclear facility exploded and its destruction was concealed. Citizens demanding independence in the Baltic states died. Soldiers wielding shovels brutally suppressed protesters in Tbilisi. And Soviet tanks menaced, and killed, peaceful demonstrators in Baku. The Soviet empire collapsed under him – and he is condemned by his own people. With this burden of the past, this lonely old man is living the last days of his life in an empty house in the suburbs near Moscow. "Aren't you offended?" Mansky asks Gorbachev in the film, "In the West you are seen as a hero, but in Russia you are far from that. Isn't it a shame that everything you did for the country now seems to be in vain? No one appreciated your feat, no one seized the opportunity for freedom and democracy?"  Gorbachev's response is to smile distantly and recite a nineteenth-century poem implying that positive change is yet to come.  But Mansky is not convinced. "Due to my innate pessimism, I believe that there is no longer any hope for a peaceful transition", he tells SBS Russian.
Latest film by Vitaly Mansky Eastern Front premiered at Berlinale in February 24 – exactly a year since the start of full scaled Russian invasion in Ukraine. Vitaly Mansky made the film together with young Ukrainian director Yevhen Titarenko. Yevhen Titarenko and Vitaly Mansky met in 2017 when Yevhen together with his producer Natalia Kazan were planning to screen previous Titarenko´s film War for Peace at ArtDocFest in Moscow where Vitaly Mansky is a president. A documentary made by one volunteer of a medical battalion during the Russian aggression against Ukraine since 2014 was one of the films that were cancelled because of the protests by Russian nationalists. The screening was moved to a cultural centre owned by the Czech Embassy in Moscow. On 24 February 2022, Yevhen went to the front –  just a volunteer of a medical batalion but also as a filmmaker. After Yevhen had already shot some parts of the new film, his producer suggested inviting Vitaly Mansky to join them. We started to discuss it and realised that Yevhen had to be the main character in the film. We also understood that there should be some separation and distancing from his squad mates in order to add a fresh dimension to the situation. said Vitaly Mansky. Yevhen began to record everything: his own feelings, tens of thousands of refugees, and the friends with whom he was going to war. Their assignment is to provide first aid on the front line and to evacuate the wounded to headquarters or frontline hospitals. This mobile unit is the main character of the film. Six months full of drama, despair, fear, hatred, bitterness, love, and, most importantly, faith in victory.
As it's a documentary, we had no idea what would happen to the protagonists, to the film, to the war… So Yevhen was filming the war, and we were filming the things that we could access in the peaceful parts of Ukraine. The situation progressed as the film was developing: we had no idea, for example, that Hostomel would be taken back. It just naturally developed so that 24 August became the end; it was a very powerful demonstration of the destroyed Russian military equipment in the centre of Kyiv, and we could not say no to showing this.
Vitaly Mansky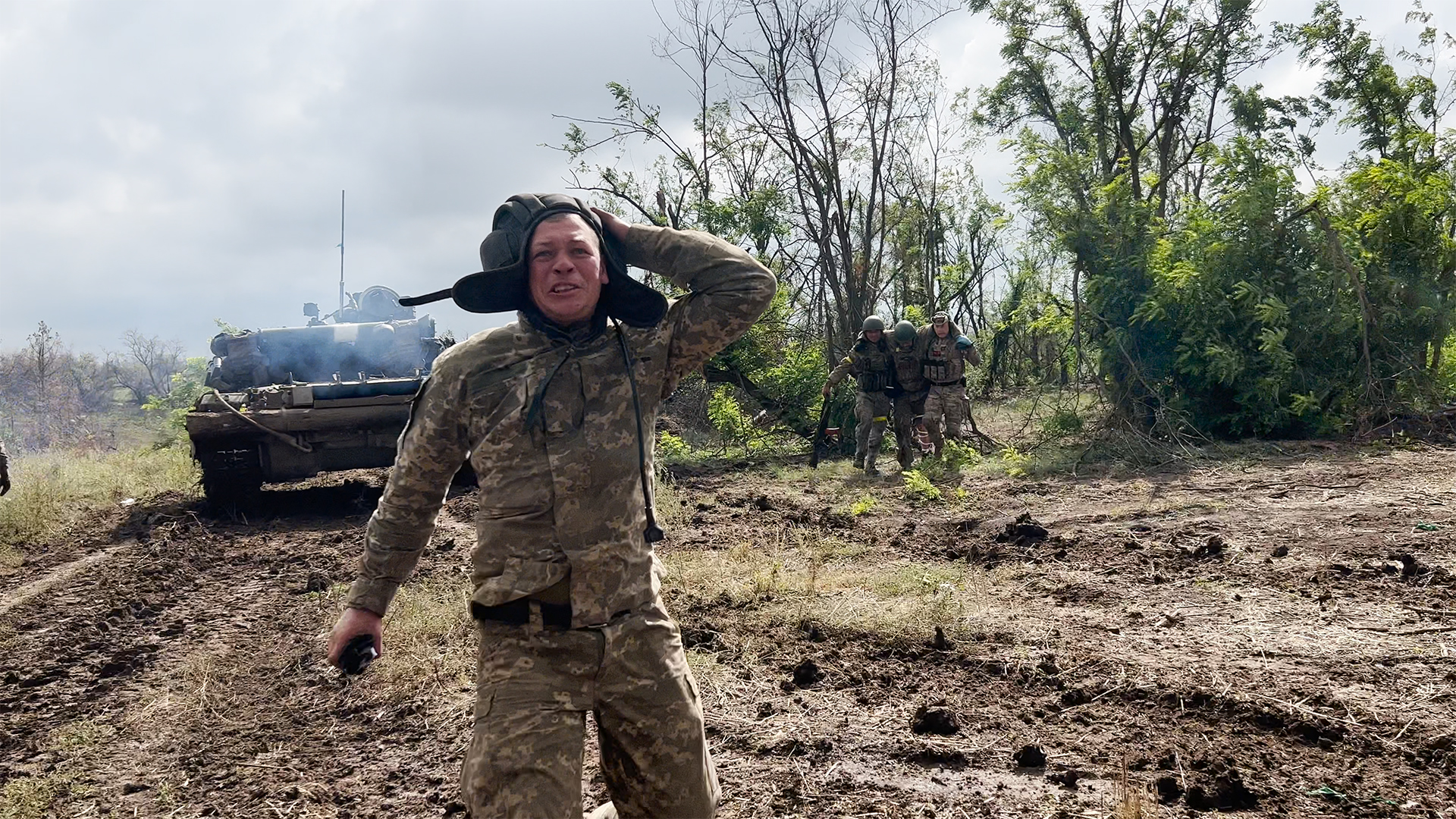 Next project of Vitaly Mansky is called 2020. On love and freedom. Reconstruction of 2020 through the history of the creation of a theatrical production about freedom, love and the meaning of life based on the biography of Mikhail Gorbachev. "On Love and Freedom is not a traditional film. It is an experiment. This work compiles various documentations of 2020, starting with 31 December 2019 and ending in December 2020. In this seven-hour journey, the authors show a year not only in their lives, but also in the lives of the countries where they stayed. Global events that affected both their lives and the lives of all the inhabitants of the planet are showcased as well." said Mansky.
In February 2022, Mansky spoke out against the Russian invasion of Ukraine. In April the same year, he expressed his anti-war views at a rally in Riga. Following Nikita Mikhalkov's request, the Russian Interior Ministry added Vitaly Mansky on the wanted list in September 2022 for slander.
Vitaly Manskiy is the Prize-winner of the Russian Ministry of Internal Affairs Awards, of the medal of the Russian Rosaviakosmos "Golubaya Planeta" (Blue Planet); he is Academician of the Cinema Academy "NIKA", the member of the Russian Cinema Academy "TEFI", Academician of the Eurasian Academy of Cinema and Radio. Deputy Chief of Russian Film Union, General producer of National Film Award "Lavrovaya Vetv" (Laurel Branch), President of documentary film festival "Artdocfest". President of the Moscow Documentary Films Festival "ARTDOKFE